PRIZE REVEAL: KINGS OF ADVIDI 2022
17 March 2022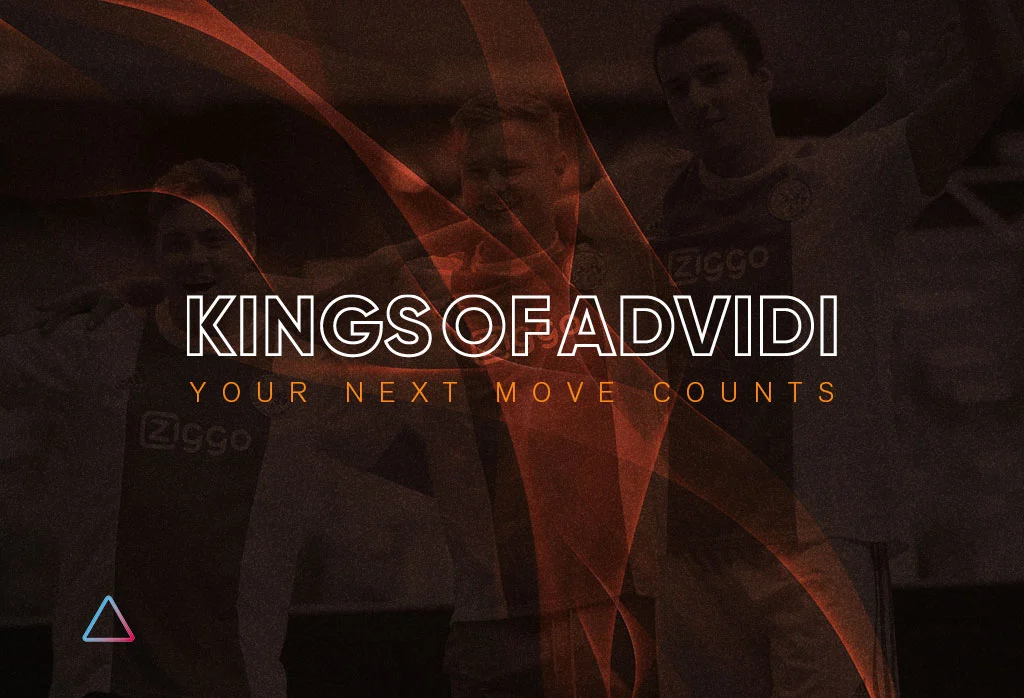 As we enter the final leg of Kings of Advidi 2022, it's time to reveal the prizes! 
If you're anything like us, you've been glued to the ever-changing leaderboard since the competition began and wow, is it on fire right now! We're super excited to see who will be joining us in Amsterdam and who will be crowned King of Advidi 2022. 
So, without further ado, let's dive into the prizes. 
Round Trip to Amsterdam 
Right, let's get the logistics out of the way! We'll be flying all the winners, from wherever they are in the world to our home town of Amsterdam. All expenses paid! After landing in Schiphol, you'll be met by your private driver, who'll escort you to your luxury palace. 
Luxury Accommodation at Hotel Conservatorium 
Your luxury palace, aka, Hotel Conservatorium is a five-star hotel located slap bang in the center of Amsterdam. Sitting at the heart of Amsterdam's Museum Quarter, Hotel Conservatorium combines historical architecture with uber-modern design. All suites are equipped with state-of-the-art technology, private bars and access to the hotel's Akasha Holistic Wellbeing Spa. We'll be taking over their presidential suite for the entire weekend where we'll be able to chill, catch up and host a few of Advidi's legendary after-parties. This weekend is all about giving our winners the royal treatment – only the very best for our Kings. 
A Night at The Museum
Moco Museum Amsterdam is home to some of the world's coolest artwork – from Bansky to Basquiat, Warhol to Rothko – it's possibly the most grammable gallery in the city and it's ours for one night only. We have exclusive access to the space and will be given a guided tour through the collection. It'll be a cultural experience like no other, so cameras at the ready– this is going to be one very special, photogenic night.
Private Party #1: Kings Night at the Loft, A'DAM Tower
Kings Day is one of – if not the – biggest events in the Dutch calendar, but the night before is pretty epic as well. That's when the party gets started! As is Advidi tradition, we'll be hosting a private party at The Loft, A'DAM Tower – the coolest venue in town. This will be Advidi's third year at The Loft and every time it gets better and better. With breathtaking views across the city, you'll feel like the king of the world!
Private Party #2: Kings Day 
An entire day just for you! Well, not quite – you'll be sharing it with Willem, King of The Netherlands, but that doesn't make it any less special! Kings Day in Amsterdam is like nothing you'll ever experience – the whole city comes out to play and the canals become one big club! You'll be captain of the Advidi boat, which is heading right into the center of the action and will include a bottomless bar as is only right on such a momentous occasion. Alongside this, there's unlimited food, a BBQ and a DJ making this feel like a floating private members club on the Amsterdam canals.  Proost to that! 
Business Day 
Throwing a little business into all this pleasure, we'll be hosting workshops and brainstorming sessions that will help keep the A in your Game. We'll be inviting you to Advidi HQ to share exclusive insights, so no matter what vertical you're running, you're going to be at the top of your game. You'll also get a chance to experience the talents of our in-house chef, who will be cooking up a storm for you throughout the day. 
You like surprises, right?
Good, because alongside everything else we've got a few additional things up our sleeves. It wouldn't be an Advidi event if we didn't go all out, so prepare yourselves for a few extra special moments. 
Now, if that doesn't spur you on, we don't know what will! Remember – it's still all to play for! There's plenty of time before the competition ends so, go for it! Use those boosters and pull out all the stops. There are two wild cards in the game so anything could happen! Kings of Advidi is an industry-defining event, held to celebrate all the great work you do. The prizes are amazing, but the memories made are even better and last forever! 
This is your year – TAKE THAT CROWN!